Abrasion Treatment Questions and Answers
If you are dealing with a third-degree abrasion, or skin avulsion, you should seek medical care immediately. Visit UCare Clinic to get treatment from experienced doctors and health care providers in EL Paso, TX. Call us today for more information. We have 2 locations to serve you on North Zaragoza Rd. in El Paso TX, and on Lee Trevino Dr. in El Paso TX.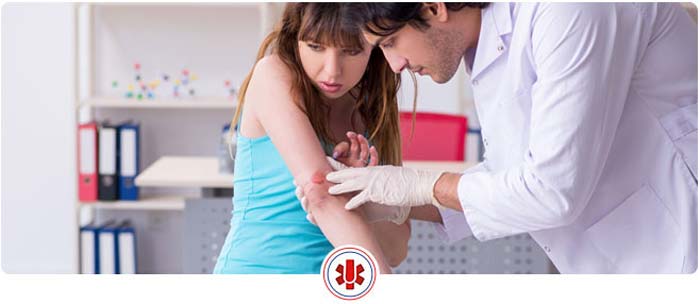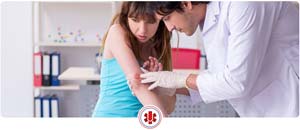 Whether you fell while riding your bike or motorcycle, participating in an athletic activity, or at work, an abrasion can occur quickly and cause significant pain and discomfort. In such situations, medical care and attention may be necessary. If your abrasion does require medical care and attention, our medical doctors and practitioners at UCare Urgent Care in El Paso, TX, can provide high-quality abrasion treatment with skill, compassion, and expertise. We would be pleased to get your wound fixed up promptly and thoroughly so that you can have a speedy recovery.
What is an abrasion wound?
An abrasion wound is an open wound wherein the surface layer of skin is scraped or grazed off at the injury site. Abrasions are a highly common type of injury that can range from mild to severe and commonly occur on the ankles, elbows, knees, shins, or upper extremities, including the upper arm, forearm, or hand.
In contrast with cuts and lacerations, abrasions do not typically involve heavy bleeding. With that being said, they sometimes involve minor bleeding and often ooze a pinkish fluid. Moreover, severe abrasions and abrasions affecting the face or head will involve much more significant bleeding.
Abrasions are classified in degrees according to the severity of the injury. With that in mind, a first-degree abrasion occurs with only superficial damage to the epidermis, or surface layer of skin, without any bleeding. Second-degree abrasions involve damage to the epidermis and the dermis, or the layer of skin directly beneath the epidermis and involve minor bleeding. Finally, third-degree abrasions are known as avulsions, wherein there is friction and tearing of the dermis layer of skin, causing heavy bleeding and requiring immediate medical care.
What causes skin abrasion?
Abrasions are typically caused when your skin rubs up against a rough or abrasive surface, breaking through the epidermis. As such, abrasions often occur due to falls, skids, during contact sports, and other accidents. Individuals who are particularly prone to experience skin abrasions include athletes, children, or people who have physically demanding occupations.
How long do abrasion wounds take to heal?
Abrasion wounds heal at varying lengths of time, depending on the severity of the injury, any pre-existing medical conditions the individual has, the age and health of the individual, whether an infection has settled in, and other factors. With that in mind, second-degree abrasions usually heal within three days to one week, while severe abrasions typically take at least two weeks to one month to heal.
When should I see a doctor for an abrasion?
First-degree abrasions typically do not require any medical care. With second-degree abrasions, it is important to keep an eye on the wound, looking for certain signs that indicate a visit to the doctor is in order, such as infection, slow healing, or other complications. Some signs that you should see a doctor for a second-degree abrasion include the following:
Discharge or pus oozing out of the wound
Fever
Increasing redness, swelling, and tenderness around the wound
No signs of healing after several days
Pain that continues to get worse
Wound that contains debris that you cannot remove safely on your own
If you are dealing with a third-degree abrasion, or skin avulsion, you should seek medical care immediately. Skin avulsions typically involve significant bleeding and tearing of the skin.
If you would like more information about abrasion treatment or require abrasion treatment, please feel free to come to UCare Urgent Care or call us! We welcome you to come to one of our two clinics located in El Paso, TX, for a walk-in appointment. We serve patients from El Paso TX, Lee Trevino Drive TX, Fort Bliss TX, Mission Valley TX, Resler Canyon TX, Alfalfa TX, Montwood TX, and Horizon City TX.